INYODO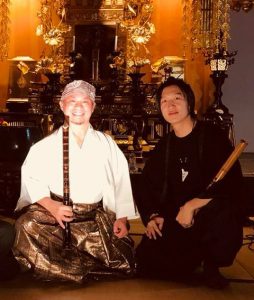 "Combining traditional instruments and melodies from East Asia with modern beat technology Alcvin and Cain create music that can be called "Trapanese Folk Hop."
Brought together by the love of the shakuhachi bamboo flute, shamisen, and Asian traditional folk instruments and modern electronic sound, shakuhachi master/multi-instrumentalist, Alcvin Ryuzen Ramos and DJ Producer, Cain Li combine to form the time-space bending duo, INYODO! Come and dance and meditate the beats and breaths of this innovative collab!
"An alchemy of spiritual music that fuses ancient instruments and musical traditions from around the world with unique, modern instrumental inventions."
What do Japanese Monks, Australian Aborigines, Indian classical musicians, African shamans, and mad scientists have in common?  Absolutely nothing! Except that they have all contributed to the musical inspiration behind the band Dharmakasa!
Dharmakasa is a truly a unique collaboration of 2 musicians that was formed from a chance meeting  in Vancouver, BC, Canada 12 years ago. Since then they have gone on to perform together at various music festivals and events including a performance as the opening act for Anoushka Shankar at the Chan Centre and the Yoshida Brothers at Queen Elizabeth Theatre and Alix Goolden Hall. Their Children's Show (known as the Dumpsta Dragons) has been performed extensively at elementary, middle, and high schools all over BC and at the Surrey Children's Festival (to rave reviews).
Their groundbreaking sound ranges from fiery shamanic dance music to meditative sound scapes drawing from the musical traditions of India, Japan, Africa, Australia while fusing them with modern elements. They perform on instruments which are thousands of years old to recently invented.
Dharmakasa has opened for Anoushka Shankar and the Yoshida Brothers and has been featured on a CBC documentary as well as having received numerous grants from the Canada Council of the Arts.
Alcvin, originally of Filipino descent, spent many years studying shakuhachi bamboo flute in Japan, and was eventually recognized as a dai-shihan (grand master). He has also studied didgeridoo with the aborigines in Australia and throat sings in Tuvan and Tibetan styles. Alcvin has shared the stage with many distinguished musicians such as John Mclaughin, Bill Laswell, Hun Hurr Tu, Celso Machado, Kiyoshi Nagata and Nagata Shachu, Joseph "Pepe" Danza, The Vancouver Symphonietta, and the Dreamtime Contiuum. He has also performed at the Vancouver Jazz Festival, Vancouver Sacred Music Festivals, The World Sacred Music Festival in Japan, and founded the Vancouver Shakuhachi Festival and Bamboo-In Shakuhachi Retreat Centre.
Andrew Kim is a Korean musician who was awarded s scholarship to study sitar in India. He was the electric sitar player for the famous Indo-Celtic band Delhi2Dublin for many years, and played soukous guitar for the Zimbabwean band, Feso. Andrew was chosen as a musical ambassador to China, performed in South Africa and Thailand, and has played with the band Spearhead and Chinese superstar, Dadawa in Shanghai. He has also performed for the Prime Minister on Parliament Hill, as well as the Mission Folk Fest, Stan Rogers Fest, Halifax Jazz Fest, New Music Fest, and Vancouver Jazz Fest (in the opening act for African superstar Johnny Klegg). Feeling a need to expand on the capabilities of conventional instruments, he has invented unique hybrid creations including the 9-strined Indian Violin, the Cellimba (cell/kalimba hybrid), Indian Guitar (sitar/guitar hybrid, Moroccan Hockey Stick, and the Spoon Fiddle.
What they say:
 "Likely to please a wide variety of listeners. The music's slow droning qualities will appeal to devotees of New Age spirituality; its simplicity will speak to folk music fans; the other-worldly sounds of Kim's instruments will attract the experimentally-minded; and the improvisational spirit of both musicians' playing will draw those whose tastes run to jazz. "
Alex Varty– The Georgia Strait
The Members:
Alcvin Ryuzen Ramos (shakuhachi, igil, didgeridoo, vocals, percussion)
Andrew Kim (guitar, sitar, cellimba, Persian Racquet)
Dharmakasa on Myspace
MARU
"A fascinating fusing of ancient Japanese and Eastern instruments and musical traditions with unique, modern configurations"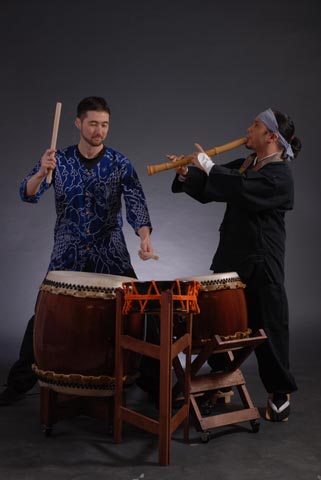 Co‐founded by Alcvin Ryuzen Ramos and Eien Hunter‐Ishikawa, Maru is blazing new trails through the organic combination of the shakuhachi (Japanese bamboo flute) and taiko (Japanese drums). With an emphasis on improvisation, the group freely integrates elements from Japanese folk, classical, and festioval music as well as jazz, rock, ambient, and a wide range of world music influences. Maru incorporates the Japanese concept of ma, or interval, to highlight their ceaseless exploration of new textures and to create both affinity and contrast between eastern and western impressions. Additional instruments of Maru include shinobue (Japanese transverse flute), biwa (Japanese lute), Australian didgeridoo, Armenian duduk, koto, vocals, vibraphone, drum set, and an array of percussion sounds. With extensive training in Japanese traditional music as well as European classical music and jazz, Ramos and Ishikawa look to simultaneously respect history while making use of unconventional techniques in creating original work. Deeply inspired by Japanese festival music, lullabies, and meditation, these highly experienced performers will take you on a journey of sound that will move your body and soul.
The Members:
Alcvin Ryuzen Ramos (shakuhachi, shinobue, biwa, didgeridoo, vocals, percussion)
Eien Hunter-Ishikawa (taiko, percussion, shinobue, vibraphone)
Kazemon

Kazemon will take you on a dimensional journey into the heart of ancient wind instruments.
Shakuhachi bamboo flute musician, Alcvin Ryuzen Ramos and multi-instrumentalist, Chris Bernetchez combine forces in a new genre-bending atmospheric fusion ensemble that defies categorization. Japanese shakuhachi flute, wood and clay Native American flutes, agave didgeridoos, and much more! Kazemon (from the Japanese word, Wind Gate) is an exploration into space, time, and textures of sound. Deeply inspired by instrumental wind traditions from around the world and the spiritual quest, Alcvin and Chris create sacred-spacial evocative sonic journies using their flutes as well as various gongs, singing bowls, percussion, vocals, and guitar for added texture and soundscapes.
"Kazemon was one of the most transcendent and involving musical experiences that we have had in the cave.  The enthusiasm and talent of the musicians just permeated the whole evening.  The music ranged from very traditional to pure improvisation everyone present got a healing on a very deep level.  Most of the experience of seeing Kazemon live is very personal and way beyond mere words.  Not since seeing the great Indian music master Ali Akbar Khan have I had such an experience."
——–Mike Burrell
Manager, Cave Without a Name, Boerne, Texas
Members:
Alcvin Ramos
Christopher Bernetchez
Samaya
"Global Music for the New World "
Born from the desire to give, live and receive music.
Samaya performing at the Powell Street Festival, Vancouver, Canada, 2012
What they say:
 "SAMAYA: one of the most unique ensembles on the Canadian music scene, I am sure. Having been privileged to hear these guys more than once, I have seen people spell-bound, as I have been: engaged in the remarkable music that comes from this unlikely collection of instruments played by virtuoso masters. The groove is exceptional, the blend is inspirational, the sound is that of what I call "the new Canada" and one which I want to hear a lot more of. Whether you are a traditionalist or a music adventurer, you will be moved and shaken by the sounds of SAMAYA."
Michael Dobbin– Producer, The Creative City Consultancy
"Your concert tonight was a knock out. The first half had me in tears several times and I am moved by your artistry and amazingly focused energy."
Nio Leach– PAL Studio Theatre, Vancouver
"Our Canada Day celebrations at PAL Studio Theatre have been deemed a "smash hit". This is, in no small part, because of the role you played, and the contribution you made to our day."
Jane Heyman– Associate Producer, PAL Canada Day Celebration
Members:
Alcvin Ryuzen Ramos (shakuhachi, duduk, didgeridoo, vocals, percussion)
Amarjeet Singh Vabhana (tablas)
Bruce Harding (guitar, flutes)
Auxiliary musicians:
Baljeet Singh (dilruba)
Dasz (electronics)