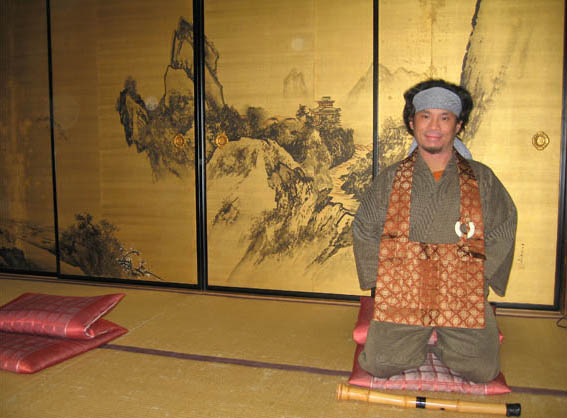 Your instructor at Bamboo-In will be shakuhachi dai-shihan Alcvin Ryuzen Ramos. He lives a life guided by shakuhachi. With over 20 years of experience of shakuhachi and meditation practice, he is dedicated to the ultimate goal of spreading the history, culture, and art of playing the shakuhachi, Japan's most well-known vertical bamboo flute. His mandate is to educate the public about Japanese musical and spiritual arts focussing on shakuhachi and to share its beauty for the enrichment of the entire community.
By providing the public with the highest quality instruction in shakuhachi and shakuhachi products, he is committed to educating the public about the process of becoming a shakuhachi player in the deepest sense through offering private lessons, retreats at Bamboo-In Shakuhachi Retreat Centre, organizing special events for shakuhachi, and pilgrimages to Japan to harvest bamboo, visit komuso temples, take lessons with the masters, and attend concerts.
Please enjoy the fascinating and beautiful world of the shakuhachi bamboo flute and Japanese musical arts and culture!